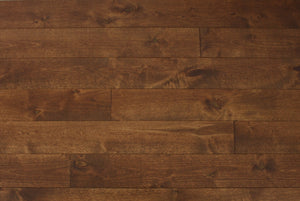 Soft and elegant. A beautiful warm tone brings comfort to your space.

Product Specifications
Collection: Inverness
Construction: Solid
Surface treatment: Smooth
Gloss level: Satin
Species: Birch
Wear resistance: Medium
Dimensions: 3.5" wide x 3/4" x 1-5' long planks.  
Packaging: 16.4 sq ft/ box
Color Variation: Minimal
Finish: 8-layers of UV-resistant polyurethane (treated with aluminum oxide for a stronger scratch resistance)
Installation: On or above grade, may not be used over radiant heat. 
Installation instructions: Solid Installation instructions
Warranty: 50-year residential
Care and Maintenance: Solid care and maintenance